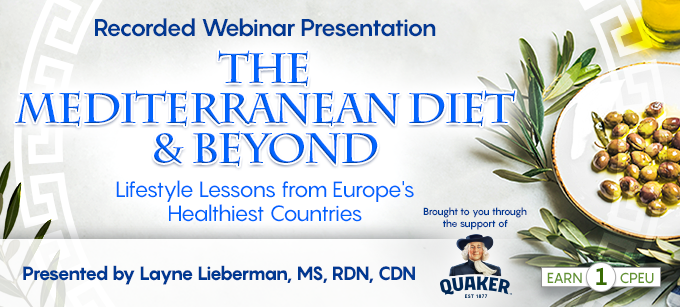 Recorded Free Webinar: The Mediterranean Diet & Beyond (Lifestyle Lessons from Europe's Healthiest Countries)
By Layne Lieberman, MS, RDN, CDN
For Registered Dietitians-Earn 1 CPEU (Continuing Education)
Suggested CDR Learning Needs Codes: 1040, 1060, 4040, 4090
Suggested CDR Performance Indicators: 8.1.4, 8.2.1, 8.4.4, 9.6.1
CPE Level 2
CDR Activity Type 175
RDNs are well-aware of the significant body of evidence relating to the Mediterranean diet its effectiveness at preventing heart attack, stroke, premature death and other diseases. However, RDNs are also aware that their patients and clients can have significant difficulty incorporating the old ways of the Mediterranean lifestyle into their modern lifestyles. With so many choices and conveniences, there are many challenges to sticking to an old world pattern of eating. Besides, why would anyone want to give up convenience and choice?
Patients and clients demand food 24-7, eat out often and have a hard time taking the required 20 minutes to digest a meal in order for the brain to register fullness. The clutter of mixed messages about what to eat creates even more confusion. So where can they turn?
The solutions to some of the barriers to the Mediterranean diet pattern lie in the modern lifestyles and dietary practices of today's healthiest European countries, with the lowest rates of heart disease, obesity and lifespans: Switzerland, Italy and France. People in these countries practice "walking the line" between staying healthy and enjoying decadent foods.
In this innovative webinar, Layne Lieberman, MS, RDN, CDN, examines the Mediterranean diet pattern in the context of the modern European lifestyle and makes practical recommendations about how RDNs can encourage their patients and clients to adapt to this European lifestyle.

The live version of this webinar was presented on Wednesday, December 12, 2018, from 2-3 pm ET, by Layne Lieberman, MS, RDN, CDN. This recorded version is approved for one hour of continuing education credit. RDs should list code 175 for this activity type.
By registering for this free continuing education course, you are granting permission to Today's Dietitian to share your demographic information and e-mail with the course sponsor for potential marketing purposes.
LEARNING OBJECTIVES
After completing this continuing education course, nutrition professionals should be able to:
Discuss overall health trends in the U.S. compared to the healthiest countries in Europe
Identify cultural and lifestyle differences in European countries
Compare and contrast the traditional Mediterranean diet to modern diets of healthy European nations
Demonstrate and implement the 5-basic dietary guidelines of the Mediterranean diet and the 5-basic guidelins of today's healthiest European countries
Take the webinar at Today's Dietitian Online: https://ce.todaysdietitian.com/node/68962
Webinar sponsored by Quaker. However Quaker had nothing to do with the content of this webinar.